Top Professional music instruction for all ages, Styles, and levels.
Guiding Artistic Careers for over 37 years, est. 1983. To inquire about lessons call (732) 546-0702.
*Classes are Available at the Studio, In Home, (*Limited Areas) and Virtual Online Classes Worldwide.
*UPDATE- DUE TO THE CURRENT HEALTH SITUATION, CLASSES ARE ONLY AVAILABLE THROUGH THE ONLINE MUSIC SCHOOL UNTIL FURTHER NOTICE.
The VILLAGE EAST CONSERVATORY OF MUSIC is a Private Music School Focusing on Developing the Careers and Guiding Musicians of All Levels, Ages and Styles to Achieving Their Goals.
Founded in 1983 by Gregg Zubowicz, a sought after Producer, Studio Musician, Mentor and Educator, the VEC has been known as the "Go To" School for Students who are Serious about learning the Craft in depth. Over the years the VEC has Trained and Turned out more Top working professionals than other Private School of its kind in the Tri State area.
Former Student Alumni who have studied with VEC Instructor Gregg Zubowicz include Williams Honor Guitarist Gordon Brown, who shared the stage with Bon Jovi at Madison Square Garden recently after their Rock and Roll Hall of Fame Induction, Top Video Game Composer Kevin Riepl (Who composed the Music for the Blockbuster Sony "Gears of War" Video Game, and more recently the Warner Brothers 2020 Animated Release "Superman: Man of Tomorrow), In demand Studio and Touring Guitarist Erik Rudic who has played with KISS legend Peter Criss and shared the Stage with Gedeon Luke and Led Zeppelin Vocalist Robert Plant on the UK Television Show "Jools Holland", and many others who have written with top Pop Superstars, Performed at Major Festivals Like Coachella, Governors Ball, Barclays Center and much more.
He is known for his Unique Style of Personal Instruction, and will take a sincere interest in what you want to achieve and give you a detailed plan to get there.
Over the years He has also been asked to teach the family members of World Famous Rock and Roll Hall of Fame Legends, Broadway Producers and Many Music Teachers from around the World.
He is a Graduate from Musicians Institute, Hollywood, California 1983, followed by additional Classical Guitar, Piano, and Composition Studies at Mannes College of Music, NYC.
While he believes that the Students Resumes are the greatest indicator of Success for any Music School, he has an extensive resume playing and performing with Major Label Artists, Extensive Studio Work, Film Scores, and Private Studies with some of the Worlds Biggest Music Legends, including Original Scorpions Guitar Virtuoso Uli Jon Roth, Classical Studies with Arlene Thomas (Ozzy Osbourne Guitar Legend Randy Rhoads Classical Guitar Instructor) at the Rhoads Family School, Musonia School of Music, North Hollywood, California, Guitar Virtuoso Yngwie Malmsteen, Studio Guitar Legend Tommy Tedesco (of the Famous "Wrecking Crew in Los Angeles), Elton John Producer Pat Thrall and many more.
In 1990 He Performed with Platinum British Alternative Stars The Mission during their Highly Successful "Deliverance" Tour, and in 1993 was extremely honored to be the only Composer asked to perform at The United Nations World Parliament of Religions, New York which featured many Ambassadors and dignitaries from around the World.
In 1997 His Music Score for the PBS Film "G.I Joe, The Ernie Pyle Story" featuring former President Gerald Ford, Walter Cronkite and others was released to critical acclaim.
Most recently he Produced and Played on the Top 10 Release "The Long Road" from Village East Student Alumni Monica Logani, which entered the New Age Charts at #3, April, 2020, and is currently expanding his Student base Worldwide
with Online Courses while completing a Comprehensive Method of Music based off the Unique Teachings he has developed
over the years.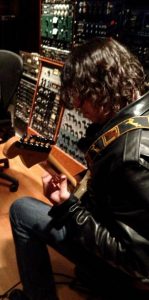 Call Today to Begin the Journey…